Awards This Site Has Won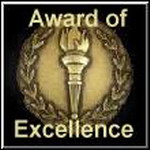 Over the past years, this site has been honored with a number of awards.  I am grateful to those organizations and individuals who found this site worthy of honor, but am especially grateful to all of the site visitors who e-mail me to tell me how much the site has helped them.
Thanks also to all those who have mentioned this web site in their books on Tourette's Syndrome. Something like three dozen books mention this site as a resource on Tourette's Syndrome.
Awards
ABCs of Parenting 4-star site
Mental Health Net 3-star site (upgraded to 4 stars, 5/00)
Medinex
Family Friendly Site
Bright Spot on the Web
Medaille d'Or
Critical Mass Award
Heartland Award of Excellence
Fortress Web Design Key Site
Best of the Web Bronze 1999
Design's Eye Masterpiece Award 1999
Ziara Content is King Award
Armon Web Originality Award
Loadstar's Gold
Web Site of Distinction
SC Portal Best of the Web
Women Webmasters Award for Excellence
Surfers Choice Gold Member
Psychohelp
Quincy Web Bright Site Award
A.E.I.P. Award of Honor Website Excellence
Nem5 Web Maggic Bronze
WebNet 4
Nem5 Web Maggic Award of Excellence for Resource
Editor's Choice, DMOZ Open Directory
Internet Brothers Helpware Award
Netscape Editor's Choice, Tourette Syndrome
Disability Network Outstanding Web Site 1999
Webmasters Award Excellent Site
Wishing Well Award
Cyber Teddy Top 500
Recommend-It Top 10 Sites: Mental Health
Recommend-It Top 10 Sites: Disabilities
Recommend-It Top 10 Sites: Diseases and Conditions
Editor's Pick, AOL
Majon Web Select Award
HealthAtoZ Featured Site Award 2000
About.com Best of the Net, January 2000 (Advocacy)
Web Studio Best of the Web Gold Award
My Parentime's Informed Site Award
The Busy Educator's Award
Editor's Choice, HealingWell.com
Arete Wave of a Site
BRILLIANeT Award
Aloha Award
Mental Health Net 4 Star Site
Panda's Pride
Links2Go Tourette Syndrome Resource
Beehive's WeBPix Award
AnxietyPanic.com Best of the Web Site of the Month (Mental Health)
About.com Best of the Net, December 2000 (Special Needs Children)
Lightspan's StudyWeb® Award
Med411 Award
Mesweet's Gold Award
PediatricNeurology.com's Award
PsychNet-UK
Golden Web Award 2003 – 2004
42nd St. Bronze Award
BTDesign Award Best Site
The Teacher's Corner Award of Excellence
ValueMD Brainy Web Award
Health Leader Award 2006