The main part of the web site is not interactive, but I've also created a companion blog, the Tourette Syndrome "Plus" Blog, where I post new research on the disorders covered on this site. I also post advocacy news in education, announcements of upcoming events, discussions of upcoming changes in the diagnostic criteria for the disorders, and controversies of interest to parents. Anyone can read the blog or get the news feed from the blog. If you'd like to comment on the blog, registration is free. Hope to see you there!
If this is your visit to the site, use the menu in the navigation bar at the top of each page to get to the major sections of this site. From there, you will see a menu of articles and files available on each topic. If you are looking for articles on school-related impact of the disorders covered on this site, you will find them in the "School Issues" section of the site.
Additional resources have moved to another one of my sites — ChallengingKids.com. If you are looking for books for educators or parents, books for youth, videos, and other web sites on a particular topic, explore that site and pull down the "Resources" menu to find the topic of interest to you.
Thank you to the many organizations, professionals, and parents who have recommended this site in their books and newsletters.
If there's something you are looking for that you cannot find, please let me know.
If you are a returning visitor, welcome back! If you are a first-time visitor, an introduction to the concept of "TS+" is in order.
In 1992, after realizing that most of the children I was working with did not have just Tourette's Syndrome, but also had other disorders such as ADHD or OCD, I coined the term "TS+" to remind parents and educators that many children with Tourette's Syndrome have features of other disorders that we need to screen for, treat, and/or accommodate. "TS+" is my way of reminding ourselves that not every neurological symptom is due to Tourette's Syndrome and that we may mislead our children's teachers if we lump everything under Tourette's by saying, "That's part of his/her TS."
"TS+" is not a diagnosis. It is just a short-hand way of communicating that a child, teen, or adult has more than "just TS." Over the years, this site expanded to include coverage of the other disorders commonly observed in conjunction with TS. Learning what disorders emerge at what ages and what to "be on the lookout for" can help parents, teachers, and clinicians recognize when symptoms of another disorder may be emerging.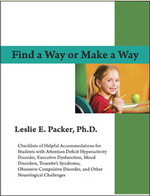 Checklists of Helpful Accommodations for Students with ADHD, Executive Dysfunctions, Mood Disorders, Tourette's Syndrome, OCD and Other Neurological Challenges. Available from Parkaire Press.
If you need help preparing for a 504 or an IEP meeting, this guide with reproducible checklists may be just what you need.  In it, you will find checklists of accommodation strategies for tics, obsessions and compulsions, medication side effects, mood disorders, homework hassles, handwriting issues, etc.   Bring a copy to any team meeting so that the team can look at all of the ideas for each challenge and determine which ones to try for your child.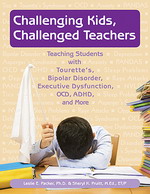 A comprehensive guide for teachers and parents as to how disorders impact students and tips and tricks for classroom management. Available from Woodbine House.
For years, site visitors have urged me to compile a lot of practical information for parents and teachers in a book. Well, I have, and you can now buy an accommodation planning guide, Find a Way or Make a Way, or a more comprehensive guide to the neurological disorders discussed on this site, Challenging Kids, Challlenged Teachers. Challenging Kids, Challenged Teachers, co-authored by Sheryl K. Pruitt, M.Ed., ET/P.