Find a Way of Make a Way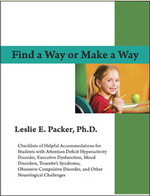 Checklists of Helpful Accommodations for Students with ADHD, Executive Dysfunctions, Mood Disorders, Tourette's Syndrome, OCD and Other Neurological Challenges. Available from Parkaire Press.
If you need help preparing for a 504 or an IEP meeting, this guide with reproducible checklists may be just what you need.  In it, you will find checklists of accommodation strategies for tics, obsessions and compulsions, medication side effects, mood disorders, homework hassles, handwriting issues, etc.   Bring a copy to any team meeting so that the team can look at all of the ideas for each challenge and determine which ones to try for your child.