Challenging Kids, Challenged Teachers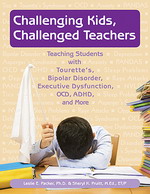 A comprehensive guide for teachers and parents as to how disorders impact students and tips and tricks for classroom management. Available from Woodbine House.
For years, site visitors have urged me to compile a lot of practical information for parents and teachers in a book. Well, I have, and you can now buy an accommodation planning guide, Find a Way or Make a Way, or a more comprehensive guide to the neurological disorders discussed on this site, Challenging Kids, Challlenged Teachers. Challenging Kids, Challenged Teachers, co-authored by Sheryl K. Pruitt, M.Ed., ET/P.